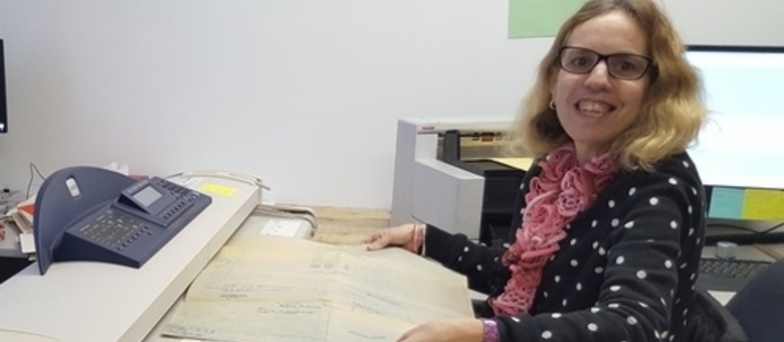 Tonya Lewis has some handy advice for school leavers: find work experience and gain computer skills.
Her advice is the result of her experience securing employment with Challenge Community Services Secure Scanning Solutions ten years ago. Since then, Tonya has moved through the ranks, adding to her skills, and getting the recognition she deserves for a job well done.
Starting out
After Tonya finished high school, she moved with her husband Neil from Newcastle to Tamworth and started looking for work.
"I went to the employment agency and they helped me look. I applied for different jobs and they said there's a job going at Challenge's scanning business and I was interested in that kind of work," she said
"I started by doing work experience at Secure Scanning Solutions, they were doing mail-outs at the time so I started with that. Then I got a permanent job there and I have worked my way up."
Secure Scanning Solutions offers supported employment opportunities, including on- and off-the-job training, for people with disabilities. Through her job, Tonya has learnt about confidentiality and securing paper documents; scanning, indexing, and naming files; maintaining file databases; collating bulk mail-outs; and, working as an important part of a tight-knit team.
Creating a career
Tonya now works four days a week in the scanning department, where she scans and electronically files paperwork for professional firms such as solicitors.
"I've been doing the computer stuff for about two years. I scan files and we do collating work. I enjoy getting to learn new skills, scanning and organising data files," she said.
While she might look at using her computer skills in other ways in the future, Tonya said she plans to continue with Secure Scanning Solutions for now.
"It's the longest I've ever been in one job and I'm really happy," she said. "We're a good bunch and we have a good manager. The people I work with are lovely, we're all like a big happy family. Challenge provides lots of support on the job. There's always help if you need it and someone on hand to ask questions."
Rewarding dedication
Tonya has been given the well-deserved honour of attending the Tamworth Business Chamber's 2018 Quality Business Awards, where Secure Scanning Solutions has been nominated for the 'Excellence in Workplace Inclusion' category.
"I think it is fantastic, it's the first time we've ever been nominated and I am excited to be going. I'm looking forward to getting dressed up, and I'm going to get my hair done nicely," Tonya said.
If you are a young person looking for a job, Tonya suggested finding work experience or doing a computer course.
"I'd recommend trying to find some work experience and if you have got some computer skills or would like to get them, do a course so you know your way around a computer," Tonya said.
To find out more about working at Secure Scanning Solutions or if your business requires scanning and filing services, call the team on 02 6762 0903 or email contracts@challengecommunity.org.au
For more inspiration on where you can find advice and information to help you decide your career path, you can download Challenge's new ebook Resources to Help Navigate Life After School.