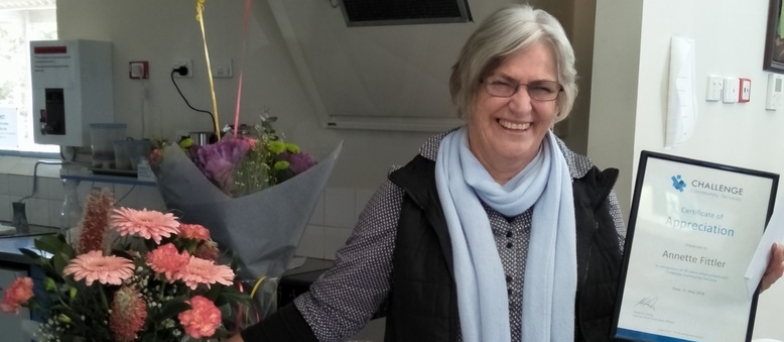 Every day at work is a joy for Annette Fittler. So much so that it is hard for her to believe she's now spent 20 years on the job as a disability support worker in Muswellbrook.
The beginning of a long career
Securing a job with Challenge Disability Services in 1998 was a dream come true for Annette, who had always been interested in working with people with a disability.
"We were respite carers years beforehand, and I thought it would be lovely to work with them again," Annette said.
When an advertisement appeared in the paper for a Day Services educator at the new Muswellbrook program, Annette jumped on the chance.
"One of the clients was a member of the interview panel, which I appreciated. It was a brilliant idea and it is a pity we don't do it anymore," Annette said. "She was wonderful. She's now working with us after working in the Koora Industries workshop for many years.
"I often remind her jokingly that I wouldn't have the job without her. It is lovely to still have that association and it was an important role for her. Interviewing staff allowed the clients to have ownership over who was coming into the service as well."
While the scope of the work has increased and the job title has changed over time, Annette said the basic job description still fit.
"When I started, Challenge Disability Services had recently opened Day Choices which was situated in the front of Koora Industries Workshop, using three rooms to do activities in, so there was a bit of trial and error," she said. "In those days you were writing everything by hand and doing the notes and filing by hand, there were no computers. It was a big change to move to electronic records. We are able to do a lot more with the clients now though, which is wonderful."
"We were very excited to get a new building in Rutherford Road which we are still in. It was officially opened on 5 September 2007 by Kristina Keneally MP, the former minister for Disability Services," she said. "It is an amazing site and after years of very cramped conditions as our service grew, was so very much appreciated by all. Also with the help of so many, a lot of changes have made to the site to make it even better."
Enjoying the good and the bad
Every day at Challenge is different and Annette said it has been a wonderful way to spend 20 years.
"Sometimes we are in the Day Centre, and others we are out and about in the community," she said. "I just love coming in and seeing the clients achieve things, it's exciting when they start to do something different that they've not done before.
"When I first started at Challenge, we were called educators. But I think they educate us more than we educate them. They teach us so much in the things that they do."
For Annette, maintaining a professional distance is the hardest part of her job.
"It is difficult to maintain the balance between professional caring and being too friendly," Annette said. "The clients become like family, and it can be pretty hard when we lose them. Some I have known for the last 20 years. It can be very sad.
"We are a part of their daily lives, the clients love to know how your family are and are interested in your life. So, I find it a bit tricky to keep the balance right, I probably haven't done it as well as I should!"
Broadening the clients' horizons
Annette said she enjoys being involved in the day-to-day life of clients and supporting them to take steps to broaden their horizons.
"The most rewarding part of my job is seeing the clients achieving their goals and being part of that process," Annette said. "I'm very proud of them because you know they've overcome a lot more than I ever will to get to those goals.
"Some take longer than others, as they prefer a stable routine, but it is exciting when they do try something new and they really enjoy it."
Annette has decades worth of examples of clients who had tried something new, regardless of the difficulty or their reluctance.
"Every client we work with has stories like that, it may seem little to someone else but we know how much it's taken to get to that point," she said.
"A long-term client would never initiate conversation, he'd wait until he was spoken to and then answer. Now, it's wonderful, he'll come in and say good morning to everybody. It's taken years, but he is coming out of shell and his vocabulary has really expanded. I think it is a testament to his growth.
"One of our newer clients is a very quiet and shy person. Just recently, she rang up and made an optometrist appointment for herself. She worked it all out for herself, we just supported her and dropped her off. She was very proud of herself and we were very excited, we were really proud of her too.
"Another client is about to travel to South Australia for ten pin bowling. She represents New South Wales almost every year. That's a pretty amazing achievement for anyone."
Supportive work environment
Annette said Challenge Disability Services had been an inspiring work environment, with talented staff and supportive management.
"We have an amazing staff at Challenge and I love to see their ideas, they're all very creative," Annette said. "I'm a follower, rather than a leader, and I am quite happy to help implement their decisions. The staff really have come up with some great ideas over the years, it's been wonderful to be involved.
"It has been a privilege to work at Day Services and I don't take that lightly. It has provided me with the opportunity to work with Challenge's amazing clients and share a part of their lives. I appreciate having worked for Challenge so long. They really support the staff and the clients.
"I've had some difficult experiences over the years and I have always felt very supported, it's been amazing. Nothing has been too much trouble. I've found the best support has been incredible, especially here in Muswellbrook. We've always had amazing staff here, I think we've been truly blessed in that way."
Annette's children have asked when she plans to retire, but she doesn't have any intention of giving up her work just yet.
"We've got 16 grandchildren, so the prospect of retirement is exciting. I don't know that I'm ready just yet, but I know I will have to start thinking about it. That's my next challenge."
To learn more about Challenge Disability Services Day Programs please visit our Disability Services webpage.