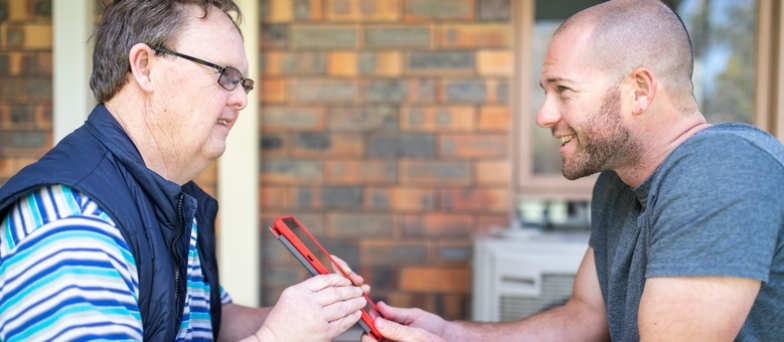 Are you or your loved one thinking about taking the first steps towards independence? You may be wondering where you or your child will live, or who you will live with, even if you're not planning on making changes any time soon.
For young people with a disability, planning your life goals after school isn't just about preparing for the NDIS or the type of work you'd like. Goals can help you plan what you'd like your life to look like: where you want to live, the activities you'd like to do, and the people you want around you.
We've put together some handy resources that can help you and your family decide what you need and want from your living arrangements; steps you can take to achieve your goals; and resources to help you increase your independence.
1. Deciding how you want to live
If you are trying to figure out where and how you would like to live, there are some great worksheets you can download to make the decision easier.
The Summer Foundation have created the My Housing Preferences Booklet, which is a Microsoft Word document that you download and fill in all the questions about your housing history, preferences, and lifestyle.
It has a lot of detail, but once complete you can use it as a way to understand your needs and guide your search for suitable accommodation. This document can also help service providers and carers ensure you receive supports that match your personal goals and interests.
Another similar resource is the Department of Family and Community Services My Life and Somewhere to Live Booklet. This downloadable PDF includes accommodation questionnaires and information on shared living in an easy-to-read format.
2. Finding the support and funding you need
When you know what you want your life and living to look like, you can start to plan the support you need to achieve it. You can use your NDIS budgets to help live independently or make modifications to your home to make it easier for you to live in. If you are opting for supported accommodation, make sure you request Supported Independent Living within your NDIS plan to ensure you can fund the supports you need.
As well as finding somewhere to live, you might also want to improve your living skills. There are organisations, courses, and online resources that can help you learn how to cook, shop, and clean around the house.
You may be eligible to receive funding assistance to learn living skills as well as for one-on-one support to teach you those things around the house you're not sure about. You may also be eligible to receive in-house assistance with cooking, cleaning, or other chores you can't manage by yourself.
The NDIS has a page of factsheets where you can download information on a wide range of topics. To make it easier to find relevant information, Challenge Community Services has created an ebook that will guide you through NDIS budgets and provide you with some inspiration on how to use them.
3. Resources to help build your living skills
Sometimes, you'll just want some guidance on how to complete a task and there are some handy websites you can visit for step-by-step advice.
Autism Spectrum Australia's Launchpad is a good place to start. The Becoming Independent section contains lots of advice to help around the house including links to useful 'how-to' videos; housing options and video case studies; and, how to contact important organisations. There are resources for around the house, personal grooming, managing your money, and using public transport.
The website also includes straightforward and useful advice on study, work, social life, health, advocacy, legal issues, and funding. Each page has two versions, one designed for young people and for their parents.
If you're interested in learning the basics of cooking and want to find easy to follow cooking instructions, there are some great YouTube channels you can try. Hilah Cooking is great for basics like making eggs in different ways and how to fill your pantry, while Cooking Lessons for Dad has some great easy recipes to try out.
There are also websites that have written and video recipes and instructions on how to learn cooking skills. Spruce Eats Cooking School has a huge range of instructions on how to prepare and cook any food you can think of. In particular, their list of cooking techniques everyone should know is a great place to start for basic cooking skills.
Just like all new experiences and responsibilities after you leave school, support is available if you know where to look and ask for help. To get you started, we've put together a free guide full of online resources to help you navigate life after school for you to download.