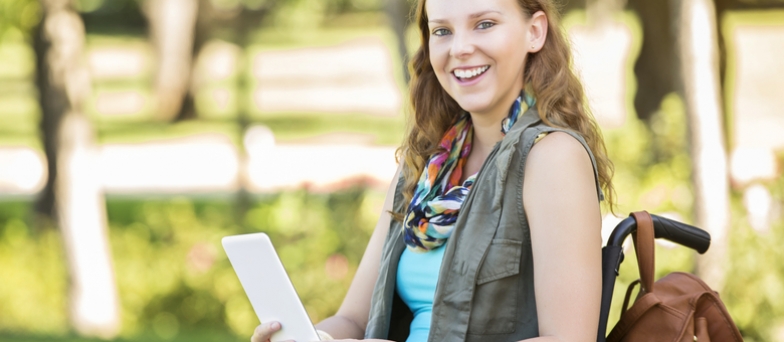 With the HSC exams in full swing, many Year 11 and 12 students are starting to consider their life beyond school. If you are a young person with a disability, it might be the first time you have considered how the NDIS can help you achieve your personal goals. Thankfully, there are plenty of places you can turn to for advice and support.
What is the NDIS?
You've probably heard about the NDIS but when you finish high school it becomes more important to know exactly what it is and what funding you can access.
The National Disability Insurance Scheme (NDIS) is how the Australian Government provides funding to people living with a disability. Rather than funding temporary solutions, the NDIS encourages early intervention and skills-building activities that have a long-term impact. The NDIS does not replace those services available to all Australians, but it can fund supports to ensure that you are able to easily access these services.
When you leave school, you'll create a new NDIS plan that reflects your goals for the future to access appropriate funding. You can plan your budget so that it includes support to allow you to further your education, find work experience, create a home, take part in the community, travel or drive a car: whatever you need to achieve your personal goals.
For example, through Challenge's Connexions program you can take part in community-based group activities and sports; access one-on-one support; learn living skills such as cooking and cleaning; or, prepare for your driver's licence tests.
What is an NDIS budget?
Challenge client Glen uses his NDIS budget to pay for supported accommodation in Brisbane along with a one-on-one support worker who helps him to build life skills such as making a meal plan, shopping to a budget, and keeping on top of household chores. They also attend the gym and navigate the job search process together.
When your NDIS plan is approved, you will be provided funding under three types of budgets: Core Supports, Capacity Building, and Capital Support. Each budget has different categories, criteria, and restrictions.
The Core Supports Budget funds the supports you need to complete daily tasks, participate in social activities, and purchase items needed because of your disability. The Capital Support Budget is available for funding specific modifications or equipment for your home, vehicle or life that are necessary to allow you to live comfortably and independently.
The Capacity Building Budget helps you to achieve your goals and learn skills that will help you gain independence. This can help you take part in daily health and fitness activities, participate in social activities and the local community, build employment skills, further your education, and help you to build your living skills to allow you to live as independently as possible.
The activities at Connexions can all be covered under your Capacity Building budget, while the Core Supports budget can be used for our one-on-one and in-home support as well as some community activities.
Where can I find resources to help?
There are lots of people available to help you prepare for your NDIS plan, manage your budgets, and make adjustments as your goals in life change. These include your parents, teachers, carers, service providers, independent advocacy organisations, NDIS local area coordinators, and the NDIA. There are also plenty of resources online that can help too.
Challenge Community Services's ebook, The School Leavers Guide to the NDIS, is a great resource to use to start discovering the NDIS. The ebook walks you through the NDIS process once you finish school, with straightforward, step-by-step explanations. It includes information on how to access the NDIS, eligibility criteria, NDIS plans and budgets, plan management and adjustments, along with examples of how you can use your funding.
Once you have a broad understanding of how the system works, you can find the answers to more specific questions in the factsheets provided by the NDIS. Each factsheet comes as a downloadable PDF or Word files for a variety of reading levels. Resources include a glossary of terms along with information on accessing the NDIS, implementing a plan, feedback and complaints, self-management, mainstream supports, service providers, and local area coordinators.
If you decide to self-manage your NDIS plan or just want to keep an eye on your funding, the NDIS Plan Tracker app may be just what you require. This subscription-based service includes an easy-to-navigate website as well as a handy app for iOS or Android devices, and the cost can be claimed under your Core Supports budget. The app includes support planning tools so that you can keep track of your funding, payments, and claims, as well as being able to upload invoices or other documentation.
Challenge has recently released another ebook, Resources to Help Navigate Life after School, that provides more useful websites and tools to help you to gain independence. Download a copy or contact Connexions on 1800 849 017 to discover the activities that can be funded by your NDIS budgets.