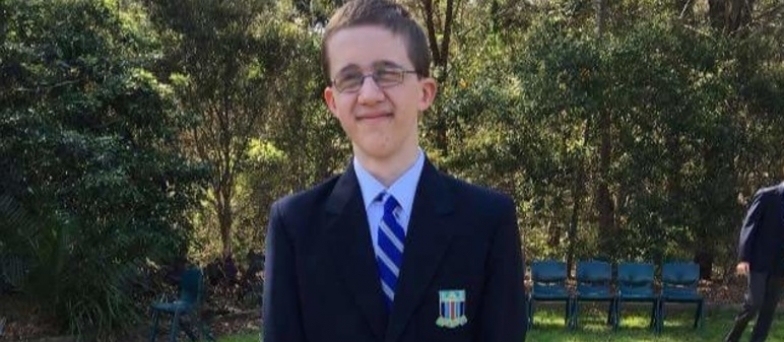 Since finishing high school last year, Liam has made good use of his time.
Work experience, TAFE, and Challenge Disability Services Connexions program, means Liam has lots of opportunities to find out what he enjoys doing in life. While currently studying IT, Liam is looking forward to discovering what other options are available.
Transition from school to adult life
Liam enjoyed his time at school and made good use of the opportunities it provided, soaking up information and undertaking work experience.
"It was really great to be at school as I was learning all different things," Liam said. "I went all the way, straight through to Year 12. I achieved all the subjects I was doing, I earnt my HSC, and it was a complete success."
In October last year, Liam began work experience at a local nursing home, which he continued until a few weeks ago.
"I took part in activities with the elderly people who lived at the nursing home," Liam said. "Whatever activities they were doing, I'd join in as well. If a couple of the residents were having trouble understanding the game, or something like that, I'd explain it really clearly to them, so they would get the idea how to play that activity."
While Liam liked his school experience, he's found the transition into adult life exciting.
"It's a big change, to be honest, I loved being in school, but now I really like being out in the real world," Liam said. "I like associating with a lot of people out in the community and getting to know TAFE. I'd like to explore so many options that could lead to a career that I would like."
Exploring a career path in IT
Towards the end of Year 12, Liam started to consider his options and decided to study IT.
"I wanted to try a computer course where I could expand my knowledge; to learn how to use more Microsoft programs, improve my understanding of the hardware components inside a computer machine, and so forth," Liam said.
"I've been doing the TAFE course for a few months now, and it's been going along really well. When I finish, I would consider doing another TAFE course. Maybe another computer course to gain more knowledge that could lead me to a career."
Liam's patience and ability to explain processes clearly has lead him to consider computer support, but he's not tying himself down to one career path just yet.
"It can be a big step up. I'll see how my studies go and maybe I might want to consider going into computer support," Liam said. "I get along well with people in my class at TAFE on the computers, and if they have any problems I help them out and I assist them with that."
Creating connections and gaining independence
Liam attends Connexions social events and learns new life skills, such as cooking and dealing with public transport, which he says has improved his confidence.
"Challenge has helped me out a lot; they are teaching me some important things like skills in everyday life. It's made me step up with my confidence as well," Liam said.
"For example, before I wasn't confident to get the train into Newcastle by myself, but my support worker talked me into it. He just outlined positive things that could lead your confidence to rise up and make you independent with traveling."
Liam is a sports fan, and enjoys taking part in Connexions social events to watch games and participate in sporting activities such as mini golf and ten pin bowling. Liam's support worker also joins him on bike rides and for golf at the driving range.
"A support worker will say 'this group will meet at this place' like bowling or so forth, and they ask me if I would be interested in joining the group," Liam said. "I usually join in and have a good time taking part and getting to know the other people who have joined Connexions.
"I enjoy bowling and golf. I also don't mind rugby league, I follow the Newcastle Knights. I haven't been to a Knights game with Connexions yet, but I have been with them to see Newcastle Jets games a few times which was really great."
Liam highly recommended Connexions to other young people, saying it was a great way to learn new skills, meet new people, and improve your self-confidence.
"I strongly recommend joining Challenge's Connexions program, especially to people with disabilities who don't know what they want to do and want to step up their life skills," Liam said. "A support worker will be able to help them find the right direction in life and teach them more everyday life skills and provide assistance with what they would like to learn.
"Taking part in Connexions can lead you to be more confident to do things in life, like getting to meet new people, building friendships, and also learning to cook and getting your driver's license. I'd strongly recommend Challenge Connexions because it's such a wonderful service to be in."
Challenge Disability Services has created an ebook to help guide young school leavers through the transition from school to adult life. Download your copy for more information on how the NDIS can help you achieve your career and study goals.