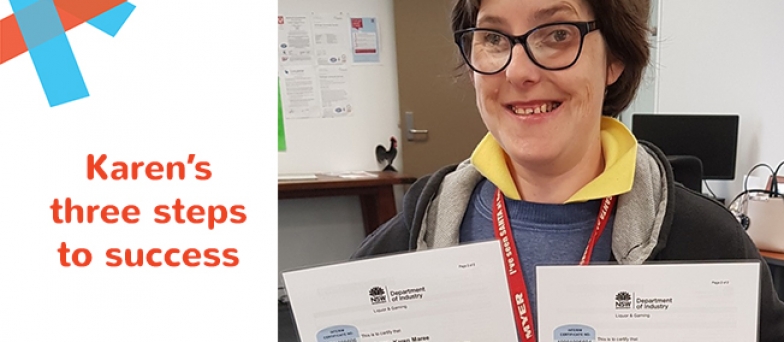 Karen Laws knows what it takes to juggle work, study, and a social life.
She has successfully completed hospitality certificates at TAFE, runs her own cafe, secured work experience at the local pub, and still finds time to plan a trip to Newcastle to see Cher in concert.
With support from Challenge Community Services and her NDIS funding, Karen has found a great work-life balance and shared the three key steps she took to achieve it.
1. Gain the skills you need
When Karen decided she wanted to find work, she thought about what she enjoyed doing and what she wanted her life to look like.
"I've always enjoyed visiting the pub, and I decided to study hospitality at TAFE so I could work behind a bar," Karen said.
To do this, she started an 'Introduction to Hospitality' course at TAFE and sat for her Responsible Service of Alcohol (RSA) and Responsible Conduct of Gambling (RCG) certificate.
"I learnt a lot of stuff; too much to count. The other students were really good, and the teachers were great because they let you bring your phone if you needed to. It was more relaxed than school," Karen said.
Karen used a support worker from Challenge Community Services Connexions to help with transport to and from TAFE, as well as assistance with her studies when required. Connexions is a program for active young people with disabilities to support them to take part in community-based activities, as well as life, work and education skills, and one-on-one support.
"The RSA and RGA were day courses and someone from TAFE sat with me while I took the course and I passed the test at the end. I was in the middle of doing it when one of the staff from Challenge came to pick me up!" Karen said.
Karen has also been practising her phone skills, answering the Challenge Dubbo's office phones and said her TAFE courses had given her the confidence to manage extra responsibilities. As for advice for other young people interested in studying hospitality, Karen says that "if you work hard enough, you will pass".
2. Find work experience
In order to put her newly-gained skills into action, Karen had to find ways to get work experience. First, she set up her own cafe, 'Kaz's Cafe', which is open every Tuesday at Challenge in Dubbo.
"It's named after me and we provide cupcakes, hot chocolates, cappuccinos, that sort of thing," Karen said.
But that didn't quite fulfil Karen's dream of working in a pub. So she reached out to her networks and found a work experience position at the Buncha Hotel.
"I know one of the cooks at the pub and she put in a good word for me. At the moment they've got me taking dirty plates into the kitchen and empty glasses to the bar," Karen said.
"When I get really good at it they're going to let me go behind the bar and pour a beer or two. I know all the regulars as I have been visiting the hotel since I was little. I'm one of the locals!"
Karen enjoys the variety of her work and the different people she serves each week.
"You get to meet lots of people at the pub and it's not the same people all the time," Karen said.
3. Enjoy yourself
Given all these responsibilities, you'd be forgiven for thinking life was all work and no play. However, while Karen works hard she also plays hard too.
She usually plans a full week of Connexions activities, going Ten Pin Bowling on Mondays and occasionally attending cooking classes on Wednesdays. On Tuesdays, Karen gets to decide what activities she will do with her support worker. Usually, this will be running Kaz's Cafe or doing some shopping - basically anything that takes her fancy.
But right at this moment, there's only one thing that Karen wants to do on Tuesdays. During her one-on-one support sessions, Karen is focused on organising the trip of a lifetime.
"Usually on Tuesdays we do anything that I want to do. If I want to go down to the shops I go down to the shops. But at the moment we are arranging to go see Cher in concert at Newcastle. We're going by car and I think we'll have a great time, it's awesome," Karen said
Karen said she loves all of Cher's movies and songs, and she certainly knows her fair share of Cher-related trivia.
Karen has been able to get funding for her activities and support worker at Connexions, through her NDIS budgets. With careful planning, she's been able to gain the skills she needs for her dream job, find work experience to put those skills into action, and now she gets to see her idol in concert!
There's no denying, 2018 has been a big year for Karen and we're looking forward to seeing what she will do next.
If you're looking for inspiration on how to plan for a full and independent life like Karen's, Challenge Community Service has released a new ebook Resources to Help Navigate Life After School that you can download to help you get started.