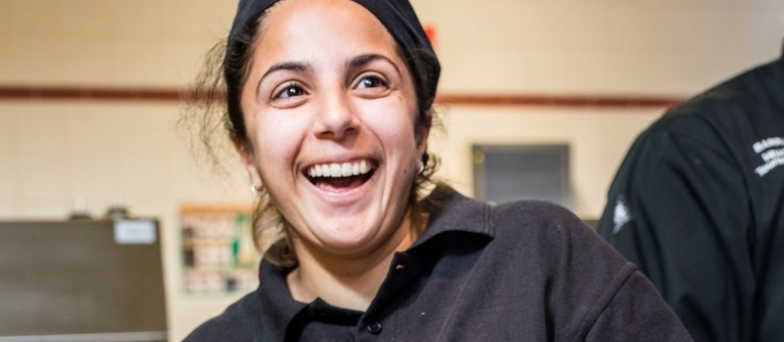 If you know the industries you would like to work in, it can be easier to gather skills while exploring your career options.
Connexions client Eliza has spent her time since school adding job skills and work experience to her resume. Connexions is a community-based program that gives you a chance to spend time with young people with similar interests and low support needs, to make friends and socialise while building life and employment skills.
Eliza has worked one-on-one with a Connexions support worker, completed a hospitality traineeship at TAFE, works at Connexions Cafe, and studies for a hair and beauty certificate at TAFE. Eliza is now on the lookout for the next step on her career path.
Making Plans
After she left school four years ago, Eliza was interested in going into beauty or animal care. She started working one-on-one with a support worker from Connexions, who helped her prepare for work and her TAFE studies.
"We worked together to improve my job search skills, and then Challenge Community Services offered me work experience at Connexions Cafe. Since then, the cafe supervisor has acted as a support worker and trainer because we spent three days a week together. I study hair and beauty at TAFE and like to train for netball in my spare time," Eliza said.
The Connexions Cafe provides hands-on training and practical work experience for young people with a disability. You can participate in the cafe from garden-to-plate to learn gardening, cooking, baking, barista skills, customer service, and money handling while building your self-confidence.
Taking Action
After a year in a traineeship, Eliza now has experience in all aspects of the cafe, including cooking, making coffee, and serving customers.
"During my work experience at Connexions Cafe, I learnt to communicate better with customers as well as learning how to cook properly, bake and serve cakes, and make a good coffee," Eliza said.
"The Cafe was the best place to meet customers, chat, and find out how they are going. They seem to love me too! It has helped raise my confidence and has improved my money skills, though not as much as my cooking has improved."
These customer service skills are sure to prove flexible for any path Eliza chooses to take, whether it be hospitality or the hair and beauty industry. Now her work experience is finished, Eliza will continue to work at Connexions Cafe for a day and a half each week, while finishing TAFE and keeping an eye out for her next opportunity.
"The next step is to complete my beauty certificate and maybe explore work in a bistro at a pub or a club," Eliza said. "I think people my age should go to Connexions or get a traineeship; they should go for their lives and do the best that they can. Connexions will help them to make new friends and gain skills."
Finding help
If you are wondering which path you should take after school and don't feel up to talking about your career plans with a support worker just yet, there are online resources available to help navigate your options.
There are quizzes and games to help decide what industries you may like, as well as useful information that can assist with career planning, education options, and employment advice.
If you need help choosing your goals, planning for the NDIS, or managing your budget, Challenge's ebook The School Leavers Guide to the NDIS is a good place to start.
For a selection of other useful online resources to help guide your career path, you can download Challenge Community Services new ebook Resources to Help Navigate Life After School.