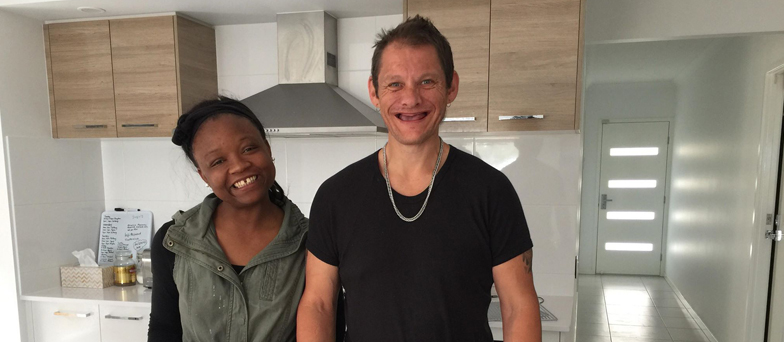 Moving to Brisbane has been a healthy change for one Challenge Community Services client, who is finding his feet, and friendship, through fitness.
Two months ago, Glen moved from Newcastle NSW to his new home in Brisbane where he is living in supported accommodation run by Challenge Disability Services and funded with his NDIS budget.
Passion for fitness
While he works with a few of our support workers, Glen shares a particular bond with Braydan Chong: a love for the gym.
"Our relationship has developed really well, Glen trusts me and he knows I think about his best interests," Braydan said.
"It's all brand new for both of us so it is good to have a mutual interest in exercise that we can bond over, especially when it is something we are both quite passionate about."
The pair can often be found exercising, meal planning, shopping for healthy food, or learning a new recipe.
"My favourite thing to do is going to the gym to exercise. I like doing sit-ups and shoulder presses the most. Most days we go down to a local park where there is some gym equipment for us to use," Glen said.
"Braydan also takes me swimming, walking and shopping. I like to keep fit and Braydan is teaching me to cook good food."
Pursuing life goals
Each week, Braydan helps Glen to make a clean-eating meal plan so he can learn to budget and eat properly.
"Now when he gets groceries, Glen now has a shopping list to remind him of his plan and budget rather than just grabbing what he wants," Braydan said.
Glen said, "We go shopping on Monday for my groceries and we make a plan for what I'm going to cook for the next week. I like cooking everything, sausages, pizza, omelettes. I made a nice pizza today."
There are online resources you can use to make decisions about your living arrangements and your NDIS Plan can include supported independent living funding like Glen has used for his new accommodation. According to Glen, living in supported accommodation allows him to pursue his interests and career goals.
"The house is really nice, I like all of it. It's very comfortable. Braydan takes me where I want to go, like shopping or to the gym, and we go for drives, " Glen said.
Glen recently signed up at a local job network and is hoping to find work as a cleaner.
"I have my cleaning certificate and I have lots of work experience as a cleaner. I have worked at hospitals, disability organisations, and at other businesses in Newcastle," Glen said.
Supporting Glen's independence
Job hunting and life skills are Glen and Braydan's current focus, with household chores, and learning how to read and write also high on the pair's to-do list.
"We've been concentrating on building Glen's independence, allowing him to learn how to do things himself and solve his own problems," Braydan said.
"To begin with, he was relying on his support workers to deal with things for him so we have been concentrating on helping him to do it for himself. We also encourage and support Glen to meet his commitments, like calling the doctor and making appointments, by being on hand if he needs it."
Glen is also able to use his NDIS budget to pay for Braydan to accompany him on holidays, supporting him to travel independently wherever he wishes to go. The pair are currently spending time planning a trip down to NSW in the near future.
"We're going back down to Newcastle to see my family for Christmas. We're thinking of taking the train," Glen said.
To help you make decisions about your future after school, Challenge has gathered a selection of useful websites in their new ebook, Resources to Help Navigate Life After School.